First off, thank you to Sharon for the opportunity to connect with her readers. I'm Sarah, and I work at CandyStore.com. We have a lot of experience helping people plan candy buffets for their weddings and events. I am excited to share this great tip to get you started. Here goes!
If you're new to building a candy buffet, you may be intimidated by the prospect of building one yourself. Don't be. The main reason people give up on having a candy buffet at their event is not money, it's fear*.  The solution to removing that fear is here. With one tip, we can soothe this savage beast.
"Fear?" you say. I ain't scurred. Right, I'm not talking about grizzly bear fear or public speaking-type fear.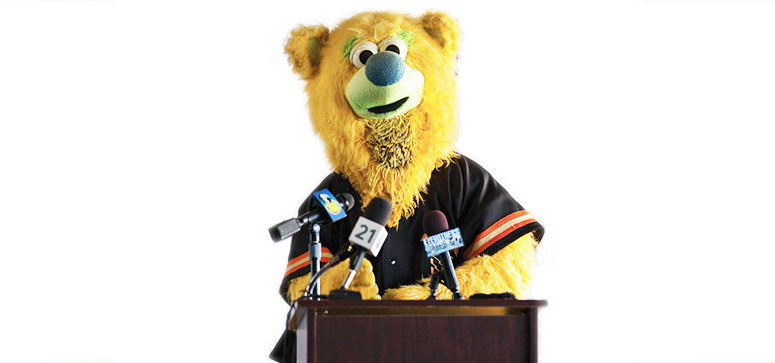 I'm talking more about the fear that it'll take too much time to plan and fear that even after all that time it won't turn out well. It's that overwhelming, my-brain-just-turned-off feeling where you just think. I can't even. But you CAN! Here's the tip that will save you:
Size Matters
This is true in many avenues of life, even scientists agree.  With candy buffets, it's a little more nuanced. It boils down to choosing the appropriate size buffet for your event and budget. You don't need to have a magazine cover-style Candy Buffet of the Year spread.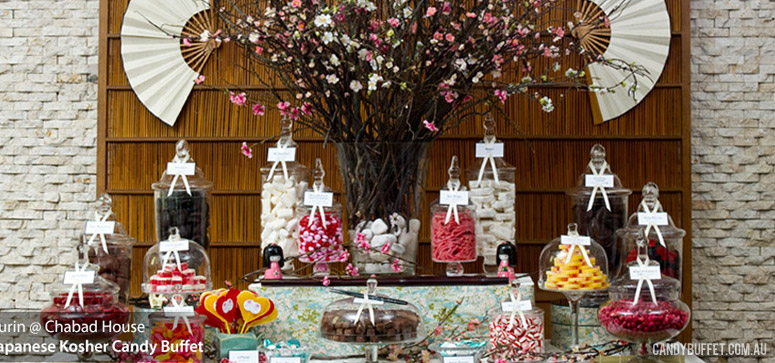 If building a diy candy dessert bar gives you anxiety attacks – are you ready? – use a small table.
You can see your shoulders dropping already. Your breathing is getting more relaxed. That's it, thaaaaat's it.

And yeah, a small table – that's it! The beauty of a small table is that you can break it down in your mind more easily. It's more doable in your head. It's also less expensive, easier to plan and has just as much impact as a large table, if not more. Now that you're nice and relaxed, here's the rest of the plan.
The biggest decisions you have to make for a candy buffet have already been made.
What Colors Should I Use?
You know the answer already. Since you'll likely want to match the colors of your event, that takes care of that step. Bulk candy can be bought in most general colors now-a-days and even some more specific colors like maroon and aqua. Gold candy and dust are popular and fit within many events color schemes. Just be careful with the edible stuff.
Ok, this is already gaining momentum! You're on your way.
What types of containers do I need?
You need 3 types. Big, medium and small. There we go with the bear metaphor again, goldilocks. A nice looking candy buffet uses zones to create depth and (sometimes just the illusion of) abundance. There's more detail in my DIY candy buffet guide here, but basically, that feeling of abundance is harder to create over a larger space. Keep the table small.
Put the small containers – bowls, platters – in front and put your individually wrapped candy bars here. Other appropriate things to put here are baked goods and desserts that don't 'scoop' and wrapped items that might get handled a bit. Larger, bulkier items tend to work best here. Cookies, cupcakes, etc.
Medium containers in the middle will contain some unwrapped candy that may need somewhat gentle handling. Gummy sharks, old-fashioned stick candy, chocolate covered espresso beans. Use tongs or scoops where appropriate.
In the back you put your tallest containers. Fill them up with wrapped or unwrapped bulk candy. Depending on how tall they are scooping may be awkward if people need to reach over the rest of the display. Consider wrapped candy that's easily grab-able by hand if this is a concern. Foil-wrapped chocolate balls are great and come in a ton of cool colors. Alternatively, use single-color gum balls or another easily scoop-able candy item.
Centerpiece Optional
If you're getting the hang of this and your brain is flowing with ideas, consider this. An optional centerpiece. If you wanna go the extra step, use a loaded up cupcake stand as a center piece and curve your zones around it. Cupcake stand, flower arrangement, or even the event's main cake or dessert!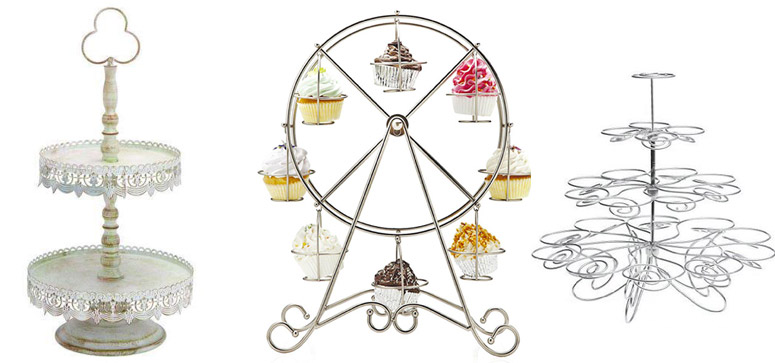 You may need a slightly bigger table for this, but by now maybe you feel like you can handle that. If not, stay small. A high and tight candy buffet looks much better than a loose-goosey arrangement on a bigger table.
Add a personal touch
This is the part you're already good at. Once you have the layout all worked out, add some personal touches to the decor. Some ribbon around the containers, maybe some tasteful confetti will look nice, fresh flowers. A framed picture of the honored guest(s).

Tie it into your existing event decor.  The dessert bar doesn't need it's own theme, it is merely an extension of the theme of the party it lives in.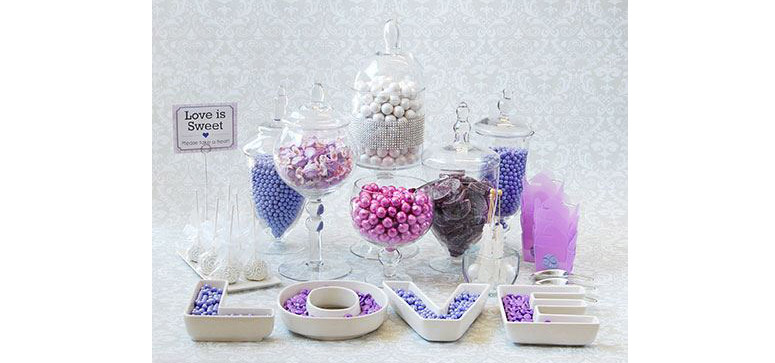 Final Thought
I'll leave you with this one last thing. There are no rules. Have fun with your arrangement. If you get overwhelmed, dial it down. If you're feeling empowered and want some more knowledge, we put together this amazing infographic (below) from my Ultimate Guide to DIY Candy Buffets.  Pin it, print it out, use it to your advantage.
I'll be answering any questions in the comments section, so let them fly. Also love to hear about how it went! So please let me know if you used these tips and how your candy display table turned out.  Love to Sharon and SugarEd Productions!
(* You may be saying, fear isn't the only reason people give up. They might also think it's going to cost too much because they'll have to hire someone to build the darn thing. This is a subset of the fear you have of doing it yourself.  There's no reason buying some bulk candy and some containers should be expensive. The bang for your buck is there if you can get past your fear!)